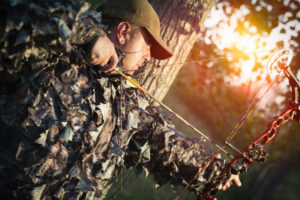 Bowhunting is an exhilarating experience, but just like anything, it requires proper preparation. Not only do you need to hone your skills, but you should also have the right equipment on-hand before you head out for the hunt. Below is our list of items you should bring with you on your next bowhunting expedition.
Archery gear
The first items on your checklist should be your archery gear. This includes your bows, arrows, broadheads, etc. The kind you get will depend on what you're hunting and your own personal preferences. At Elk Ridge Outfitters, we also have our own rules about what kind of archery equipment you can and should bring. You can read those rules here.
Clothing
The right kind of clothing can make a huge impact on the success of your hunt. For archery hunters, we recommend buying camo clothing to blend into your surroundings. Everything you wear should be properly fitted—clothes that are too baggy can interfere with your bow and send your arrow off-target. Additionally, your clothes should match the environment and conditions you will be in. Warmer temperatures require lightweight clothing, while colder temperatures require multiple layers.
Boots
Your boots are a vital piece of your outfit, and it's why we're addressing them separately. You will be on your feet for hours, trudging through tough conditions, so a good pair of boots is essential to your comfort and health. Base your decision on the conditions you will be facing. Breathable boots are great for warmer conditions, rubber boots are suited for wetlands and marshes, and insulated boots are best for cold climates. Always make sure your boots are broken into before you set out.
Essentials
Finally, there are the essentials. By these we mean water, maps, compasses, flashlights, first-aid kits, etc. These are the items you will need on-hand to take care of your personal needs while out hunting. While a relatively safe activity, you never know what might happen. If you're going bowhunting, it's better to be safe than sorry.
To learn more about how to prepare for your next bowhunting trip, read through our guide here.