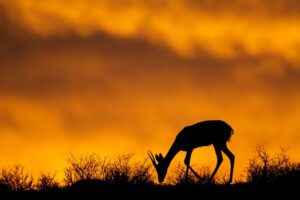 Antelope offer the opportunity for a challenging hunt. The combination of their natural speed and their innate senses requires a different hunting approach than may be used for other game.
If you're looking to join Elk Ridge Outfitters for an antelope hunt, or planning on heading out on your own, here are a few tips to get you prepared for a successful trip:
Location
A successful antelope hunt starts with finding a great location where game is plentiful. Montana is home to some of the best antelope hunting in the country, and the animals are plentiful in our area. There is no better place to hunt antelope than in the Bridger Mountains of Montana.
Scouting
As with many types of game, antelope hunts rely on thorough scouting. The experienced guides at Elk Ridge Outfitters continually scout the area and know where the antelope are likely to be found. We bring hunters to private ranches where we use four-wheel drive vehicles to get in close and spot signs of antelope. Once we have spotted a herd, we stop and size up the animals to see if they're the right ones for your hunt.
Rifle
Antelope hunting almost always requires a long-distance shot. Bullet weights between 90 and 100 grains are usually the best choice for antelope, serving as fast, accurate, and versatile ammunition. Hunters should be comfortable with their shooting, and be able to land long-distance shots from as far as 300 yards away. The average shot for antelope in this area is about 200 yards, so being able to make your mark at a greater distance will help ensure your bullet lands true.
Personal
Taking care of yourself is an important part of antelope hunting, too. Eating a good breakfast, bringing food for the hunt, and being careful to drink enough water are all essential for hunters to be at their best during a hunt. Wearing warm, comfortable clothing is also critical for hunting antelope successfully. The weather in Montana can change quickly and appropriate clothing is essential for staying comfortable during the hunt. Don't forget that there will also be walking and stalking in the field, so make sure that you're in good physical shape as well to keep up with the animals.
Elk Ridge Outfitters offers big game hunting for antelope, mule deer, elk and black bear. To learn more, including pricing, availability and permit deadlines, call us today at 406-578-2379.