Spring Black Bear Hunts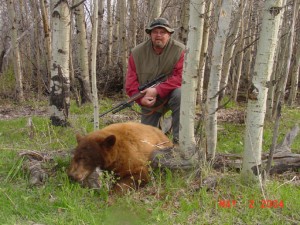 Spring black bear season is open from mid-April to mid-May. Generally, we choose to hunt bears in early May. During this time, the bears are just coming out of hibernation in search of lush, tender feed. Montana has a fair chase law, which prohibits the use of dogs or bait. We locate the majestic bears by glassing from vantage points and then plan our stalk. This is an exciting method of black bear hunting, and our success has been high. The bears here are unique in that they come in a variety of different colors phases.
We only take four bear hunters per season to put less pressure on the bears and increase the opportunity for hunters to a take good bear.
Your Montana Black Bear license is included, all food, an excellent full-time cook, guides, stock, tack, and lodging are furnished. You will need to furnish your motel rooms before and after your hunt, rifle, sleeping bag, personal gear, meat processing, and taxidermy costs. There are meat processors and taxidermists locally that will take care of your processing, shipping, and taxidermy needs. We will prepare all hides, heads, and capes for your taxidermist if you prefer.
7 DAY SPRING BLACK BEAR HUNTS $5000.00
These bear hunts are sold first deposit has first choice of openings. A 25% deposit is required to book a hunt with another 25% due along with the submittal of your license application, balance due at time of hunt. Deposits will be refunded if you are unable to obtain your license otherwise deposits are nonrefundable.
**Future pricing is subject to change without notice**