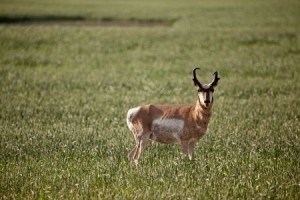 This is a special time of year here in southern Montana. We're just a week in to antelope season and already it's shaping up to be a great one. Unusually high temperatures and strong winds posed some unique challenges to hunters initially, but that hasn't stopped them from landing some beautiful shots.
According to the Billings Gazette, the antelope harvest is already up nearly 15 percent compared to 2014's season. It's a promising figure that bodes well for the rest of the season. As of Tuesday, October 14, 126 antelope had already been checked at the Montana Fish, Wildlife and Park check station.
Hunters and field biologists are also reporting that more wildlife activity in general this season than in recent years. Moose, mule deer and sage grouse have been particularly abundant this year. Back in September, the Billings Gazette reported that Antelope numbers had been climbing steadily over the course of the spring and summer. A few mild winters have contributed to population growth among the wildlife in our area across the board. By the looks of it, these larger populations are already making for a great harvest this year.
Here at Elk Ridge Outfitters, we're having a blast hitting the field in one of our favorite months of the year. Are you ready to join us and bag your next big trophy? It's not too late! Antelope season runs until November 8 this year. Book your hunt online, or give us a call today for more information. We look forward to hearing from you.