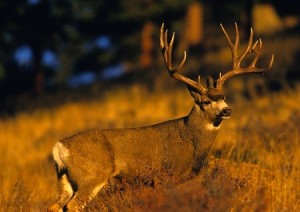 During the course of an elk hunt, there's a good chance to spot a big mule deer on the plains of Montana. Assuming you have your deer license in addition to your big game license, this is a great opportunity to take one of these highly sought-after trophies. Today, we'll share a few mule deer hunting tips to help ensure your success should you have an opportunity to take one down.
Put Your Optics to Work
Getting into position to take down a mule deer without it noticing you is going to take some careful planning and consideration. Likewise, you're going to be doing quite a bit of glassing as you approach your target. It can be easy to expose yourself to your prey on the skyline of the open plains of Montana. Stay low and use your glass to keep your quarry in sight.
Get Ready for a Trek
Chances are you're going to be covering some serious ground as you get yourself in position. Cut weight wherever possible, and make sure you're in adequate physical condition to spend the day hiking, crawling, and stalking through the brush. You may travel miles before you finally get a clear, reliable shot.
Patience Is a Virtue  
When you're not walking, you'll be waiting. The last thing you want is to get busted after spending hours tracking a mule deer. Take your time, and don't settle for a sub-par shot. Plan your positioning, and wait until you're absolutely confident to take the shot. It will all be worth it at the end of a long, satisfying hunt.
Ready to schedule your next hunt with Elk Ridge Outfitters? Book your hunt online today, or give us a call for more information about any of our hunting packages.