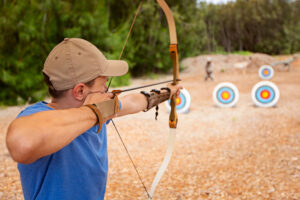 Before you head out for an archery hunt, it's a good idea to sharpen your skills. Running through some practice drills can ensure a more successful hunt. But how do you get started? Here, we discuss some of the best archery hunting practice tips:
Start practicing early
The earlier you start practicing for the upcoming season, the better off you'll be. After all, it's likely been several months since you've drawn a bow. As such, your muscles will not be used to archery and won't be as strong as they once were. It'll take at least a few weeks to get your muscles accustomed to drawing a bow again, so we recommend giving yourself at least a month or two of practice.
Practice holding then shooting
A practice drill that is highly recommended to bowhunters is to hold the bow at full draw before taking a shot. This will prepare you when you're hunting an animal and have to hold your bow at full draw as you wait for the perfect shot. Start slow by holding your bow at full draw for 15 seconds, then gradually increase the time.
Shoot 3D targets
Shooting at paper targets can help you get used to pulling a bowstring again, but it won't help you get used to hunting animals. 3D targets offer a more realistic practice experience. Plus, you don't have to break the bank for them. You can get 3D targets for as little as 80 dollars in some places.
Don't shoot only in the daytime
When you're out hunting, you will be exposed to varying conditions. If you only shoot during the daytime, when the sun is out, you will be unprepared for cloudy days or dusk-time hunts. Try to change up when you practice your archery as much as your schedule will allow.
Elk Ridge Outfitters offers archery hunting expeditions in Montana. To learn more, contact us today!