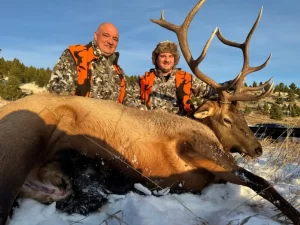 Hunting trips are a great way to get away from the stress of life and unwind doing something you love, while also creating lifelong memories. It's quite an investment, and not something you get to do too often, so you should make sure everything about the trip is perfect.
If you want to have the best hunting trip, you should choose a hunting outfitter, who can offer you high-quality hunting and quality lodging. Still, there are many outfitters throughout North America, how do you choose the right one? Look for some of these traits:
Location
This may seem obvious, but there's a lot to consider when it comes to the location. Are you looking to travel far or stay relatively close to home? How remote of a place are you looking for? Additionally, you should consider how you'd get there, as many remote places will require some combination of driving and flying. Plus, look at what is in travelling distance if you're looking to get out for a day trip. Is there anywhere you want to visit in driving distance? Perhaps a body of water if you're also into fishing?
The Right Hunting Conditions
If you're looking for an outfitter, you should pick one that offers a full-service hunt. Essentially, what you'll get in this situation is a guided hunt with an experienced pro who knows the game and where to find it, exponentially increasing your odds of a successful hunt. The outfitter should even make a hunting license part of the package, so you can focus solely preparing for the trip. They'll make sure you know exactly what to bring for your trip. You'll hunt on remote, sprawling, private land and return to a freshly prepared meal and comfortable lodging.
Good Lodging
Part of the reason you're choosing a hunting outfitter is the convenience – you don't have to travel from some hotel to wherever you're going to hunt. You're sleeping in a lodge on the same property you're going to be hunting on. But that doesn't mean you should sacrifice comfort or quality. You should come back to a comfortable, well-furnished, clean cabin with at least some modern flourishes such as a television.
If you're looking for an outfitter that offers quality, full-service hunting, comfortable lodging, a fantastic location (Wilsall, MT), Elk Ridge Outfitters is the place for you. To schedule your hunting trip, contact us today at 406-220-2379.