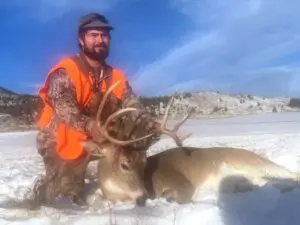 Autumn is knocking at the door, and it brings with it the thrilling season of antelope hunting. As the season approaches, it's time to sharpen your skills and get ready to venture into the wild. An autumn antelope hunt promises not just the rush of the chase, but the beautiful scenery of Montana as a backdrop. Here's how to prepare to have a successful and enjoyable antelope hunt this fall:
Pre-Hunt Preparations
An antelope hunt requires meticulous planning and preparation. The antelope is a vigilant and speedy creature, so honing your accuracy should be on top of your checklist. Whether you choose a rifle or a bow, make sure you've been practicing so your skills are sharp.
Next, spend some time researching antelope behavior and habitats, particularly in the area you're hunting. Understanding their patterns can give you a significant edge. Also, get your hands on topographic maps of the area to familiarize yourself with the terrain.
Gear Up for the Expedition
Packing the right gear can make or break your hunting experience. Start with a good pair of binoculars – antelopes are known to stay in open fields and spotting them from a distance can save you a lot of time and effort.
Clothing is vital. Dress in layers to combat the chilly autumn mornings and warmer afternoons. Opt for camouflage or earth-toned clothing to blend seamlessly with the surroundings. Also, pack a reliable GPS device and first-aid kit.
The Excitement of the Hunt
Now, for the most exhilarating part – the hunt itself. As you venture out into the picturesque Montana landscape, immerse yourself in the experience. Appreciate the little things – the crunch of leaves under your boots, the melody of the wind, and the vibrant autumn hues painting the sky.
Keep your senses alert. Antelopes are curious creatures, and sometimes, a little decoy strategy can work wonders in attracting them within your range. But remember, patience is your best ally here.
Speaking of enriching experiences, how about enhancing your autumn expedition with a guided hunt? Here at Elk Ridge Outfitters, we specialize in offering immersive hunting experiences in the scenic landscapes of Montana. We offer both archery and rifle hunts, and provide you with lodging, food, an experienced guide, and more! To schedule your hunting trip, contact us today at 406-220-2379.
Elk Ridge Outfitters
Average rating:
0 reviews